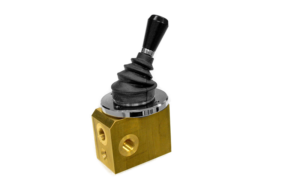 Nowadays Lever valves for filling systems for Compressed air cylinders is no longer conceivable without it. The tilting movement for filling or venting is much easier to manage than a rotary movement.
Brandner toggle valves are characterised by short switching travels which allow ergonomic switching from the wrist.
Most operators of filling stations do not use hearing protection, therefore it is recommended that only filling valves with vent silencers are used - these ensure quiet filling operation, which means that the filling ramp equipped with these silencers can also be installed in sales rooms. Filling ramp which is equipped with these silenced valves can also be installed in sales rooms. 
Lever valves with flow reduction prevent overheating of the sensitive carbon containers during filling - we will be happy to advise you on the selection of the correct flow rate.
Larger quantities or blanket orders of the valves can also be equipped by us with your own logo - and even executed with your own design.
Brandner lever valves are very popular because of their reliability and ease of use - pirate copies were usually quickly withdrawn from circulation in the past, because only we have the original.